San Antonio has been fortunate enough to weather the past recession due to a growing population base and stable economy.  Our economy has been bolstered by the tailwinds of the Eagle Ford Shale play.  As appraisers it has been interesting to watch the magnitude of the play develop and grow over the past few years.  For those unfamiliar with the region, a summary of the Eagle Ford Shale and its economic impact is provided below.   
The Eagle Ford Shale is a sedimentary rock formation found throughout South and East Texas. The play spans over 24 counties and includes a 400 mile long stretch of South Texas from Dimmit County to Brazos County.  Drilling depths range from 4,000 to 14,000 feet and this area has become one of the most heavily drilled rock formations in the United States.
The Eagle Ford Shale ranks as the largest oil and gas development based on capital invested and is one of the most successful mineral production areas in the world.  The Eagle Ford is reshaping the economy of South Texas.  Sleepy small towns have been revitalized by the demand for lodging, employees, and ancillary services.  A map depicting the Eagle Ford Shale and permitted wells is provided below.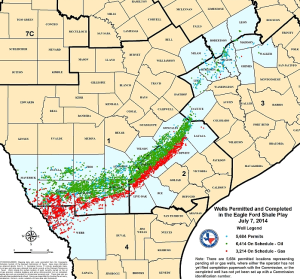 Hydraulic fracturing and horizontal drilling have allowed oil and gas companies to extract previously unattainable oil and gas deposits.  Hydraulic fracturing or fracking is a process whereby a high pressurized liquid, usually water mixed with sand and chemicals, fractures the rock formation and allows natural gas, petroleum, and brine to migrate to the well.  Due to shale's high porosity and low permeability, it is especially well suited to fracking.   Horizontal drilling has also allowed for greater exposure to the formation than a conventional vertical wellbore.
There are over 200 active operators in the Eagle Ford Shale region and several major oil and gas corporations have committed significant capital to the region.  Almost $30 billion was spent on developing the play in 2013.  Major companies active in the Eagle Ford include Anadarko, Baker Hughes, Chesapeake Energy, EOG Resources, Halliburton, Lewis Energy Group, Marathon Oil, NuStar, PetroHawk, Pioneer Natural Resources, Schlumberger, and Valero, to name a few.
The University of Texas at San Antonio projected the Eagle Ford Shale had a 2012 economic impact of over $61 billion across a twenty-county region and supported 116,000 jobs.  This economic impact is expected to increase to $89 billion in 2022 and support 127,000 jobs.
Barrels of oil produced daily and drilling permits are still on the rise.  Crude oil production in the Eagle Ford Shale continues to increase, with June production reaching 1.4 million barrels per day, representing a 34% increase from June of 2013. As more wells come on-line, the growth in oil extracted and permitting should stabilize.  However, the oil and gas extracted from these wells will still provide a significant boon to the South Texas economy.
While the Eagle Ford development has boosted the local economies of South Texas, it has also highly constrained the infrastructure of these communities.  Man camps, RV parks, and new hotels/motels have been constructed to satiate the demand.  Civitas Alternative Investments has announced plans to develop four new Fairfield Inn and Suites by Marriott hotels in the Eagle Ford.  The hotels will have 352 combined rooms and be constructed in Pleasanton, Cuero, Cotulla, and Three Rivers.  In addition, more than $100 million has been invested in Cotulla including a $9 million expansion of the La Salle County airport in December 2013.  These capital investments tend to underscore a longer term investment horizon for the Eagle Ford.
The Eagle Ford Shale play is expected to have a significant economic impact throughout the region for a considerable time period.  The total lifespan of the play is unknown due to several variables including difficulty in quantifying the amount of oil and natural gas deposits, future technological advancements, and the future price levels of crude oil and natural gas.  Currently, there is significant profit in crude oil, but changes in demand for crude oil or natural gas could have a significant impact the longevity of the play.  The latest projections indicate drilling could continue in some parts of the Eagle Ford until 2035.
The Eagle Ford Shale play and related oil and natural gas exploration is providing a significant lift to the South Texas economy.  Real estate values in this area have changed drastically over the years.  Due to the changing market conditions, a firm who is active in this area is your best bet for valuation services.  Meridia Appraisal Group would be happy to assist you in all your future Eagle Ford related valuation services including feasibility studies, proposed developments, and other value related assignments.